A gateway to the resources you need. For your classroom. For yourself.
Gain instant access to the content you seek, whether you are looking for "just-in-time" resources that you can leverage during a particular lesson, sequenced binders of instruction that you can assign to students, or self-directed PD training courses that you can take to earn CPE credit hours. This is the gateway to the content you need for your classroom and for yourself, even as these needs shift from day to day.
Find what you need, when you need it
Multiple options for browsing and searching allow you to quickly and seamlessly find content to meet your specific instructional goals.

TEKS Search
Find resources and binders aligned to individual TEKS standards.
Keyword and Faceted Search
Search by keyword and filter results by subject, grade, audience, and other targeted facets.
Newsletter and Featured Resources
Discover new content by browsing featured resources or signing up for the monthly newsletter.
Organize content based on your instructional objectives
Save your favorite content and create your own resource lists in your Gateway Dashboard. Sequence activities for the whole class, or create differentiated learning paths for your students: RtI, PBL, small group instruction, and IEPs goals.

Fulfill your professional learning goals and requirements
Get anytime, anywhere access to the training you need to fulfill critical professional development requirements. A simple self-enrollment process grants you access to courses that offer
extensive instruction in the TEKS, the ELPS, and the RtI model;
strategies on providing effective instructional support for English language learners, Gifted and Talented students, and struggling students;
and CPE credits and certifications.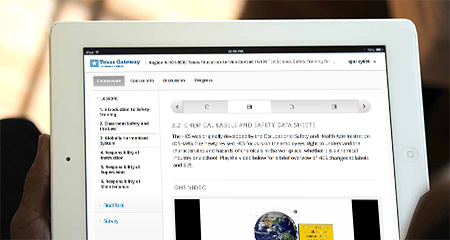 Next Steps
Get Help
Still have questions? Visit our support page to learn more